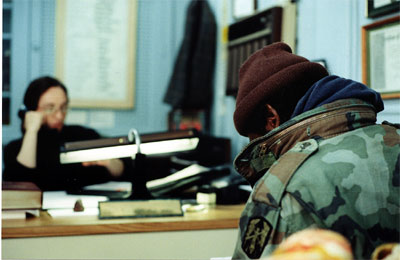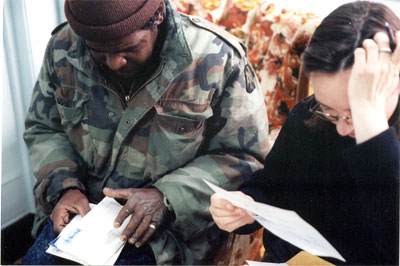 ---




At the Library

AFTER breakfast at the shelter all the folks must hit the streets (the only exception is when the temperatures are so low that there is a health risk). Where does a homeless person spend the day? When it's cold out, many go to the local libraries. Hey, it's warm inside, quiet, and there's lots of good stuff to read.


---
Reaching Out: Going to Where the Folks Are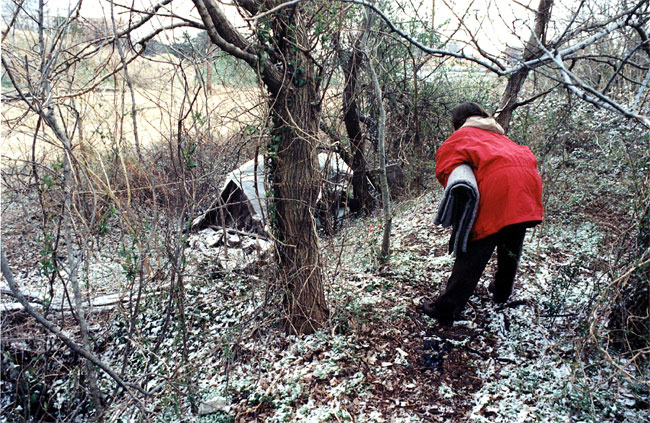 IT'S getting cold out with the first sprinklings of snow. Where is this gentleman? Out in the woods? Not exactly. This campsite is just fifty feet or so from a major highway coming into downtown Norfolk. If you look in the upper right corner of the picture below and to the right, you can see a large building.


---




Paper Work and Meetings

SOMETIMES working with the homeless folks seemed to interfere with the paper work and the meetings.


---
Bonding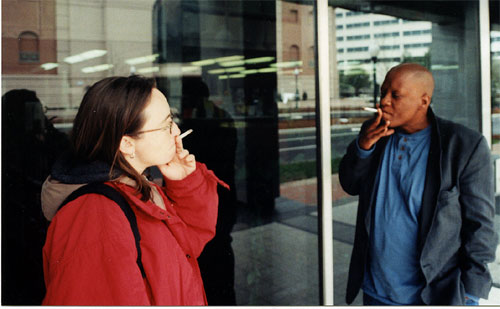 SOMETIMES all it takes is a cigarette and a few kind words. It would seem that most homeless people are so use to having nothing and to surviving on the bare minimum, that most of them are extremely grateful for any courtisies or kindnesses that they receive. Please note: Sarah Paige is no longer a smoker.


---




What's Going on Here?

JUST looking at this gentleman you might think he's going through an interview for a mid-level manager's position. Not true. This person, who works everyday, is homeless and is living at The Union Mission until he can get back on his feet.

---


THE UNION MISSION has served the needs of the homeless in Norfolk since 1892. The Mission provides shelter, food, religious services, and and jobs. The Union Mission offers shelter for men, women, and families and has a hotel section with individual rooms.

---
The End of a Long Day....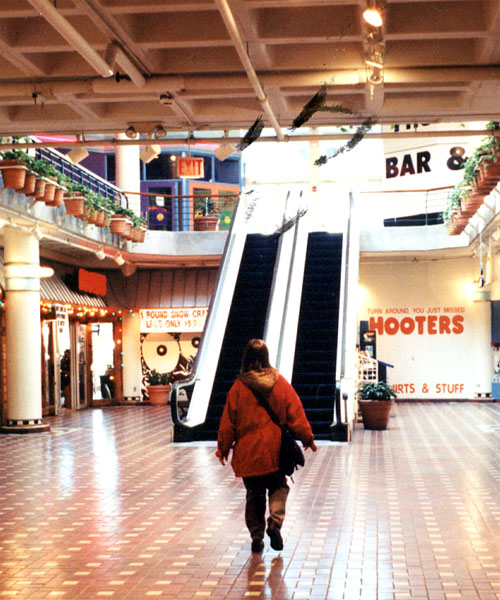 ---



Conclusions

AFTER following Sarah Paige around for a week have I come to any conclusions about the homeless? Why and how they became homeless? While recognizing and acknowling the obvious, that one week's casual observations with a limited number people doesn't provide for scientifically sound conclusions, I did come away with some thoughts and opinions.
Most homeless people don't wake up one morning and say, "Gosh, I think I'll be homeless." Though many do wake up one day and realize that they are. Often, they've gone from friend's to friend's, relatve's to relatiove's and finally find there is nowhere else to go. Many just fall on hard times, losing jobs and social support systems, and their lives spirla downward out of control.
A pretty large percentage of the homeless are mentally ill, many suffering severe psychotic illnesses that need medication taken consistantly with ongoing monitoring and psychiatric services. Once these people become homeless

Thanks to....

I WOULD like to thank all the folks and organizations who allowed me to photograph and hangout at their facilities: John Gray, Jim Tatum, and the staff at The Union Mission, XXXXX at St. Col, and Major XXX at The Salvation Army. Thanks to all of the homeless people who were so kind in allowing their pictures to be taken and who answered my questions. And, a special thanks to Sarah paige Fuller who tolerated my sticking a camera in her face for a week. Workshop.....funding PATH? NEST


---



A Little About the Workshop

THE CLIFTON C. EDOM Truth With a Camera workshop is the creation of Dr.Vme Smith of Tidewater Communtiy College and her mother, Vi Edom. Clifton Edom founded the internationally recognised, University of Missouri Photo Workshop almost fifty years ago
The workshop staff included: Jim Blair of National Geographic, Ynughi Kim of Contact Press Images, Eric Seals of The Detroit Free Press, and Alex Burrows of The Virginian-Pilot.


Home page